The Yavin IV stronghold is utterly amazing. In fact, calling it a stronghold doesn't even begin to do it justice. It's more like your own private resort. I plan to spend most of my days greeting guests with Blizz at my side, like Mr. Roarke from Fantasy Island. Smiles everyone, smiles!
Smiles indeed. If you're like me you're still grinning cheek-to-cheek over this addition. It is without question the best stronghold in the game. It blows Tatooine right out of the desert.
It's not cheap, but you won't be disappointed after unlocking all of the rooms. I chose to conserve my credits and unlocked everything with Cartel Coins. It will cost you around 11,000 coins. I had six thousand save up and bought another five and I have no regrets.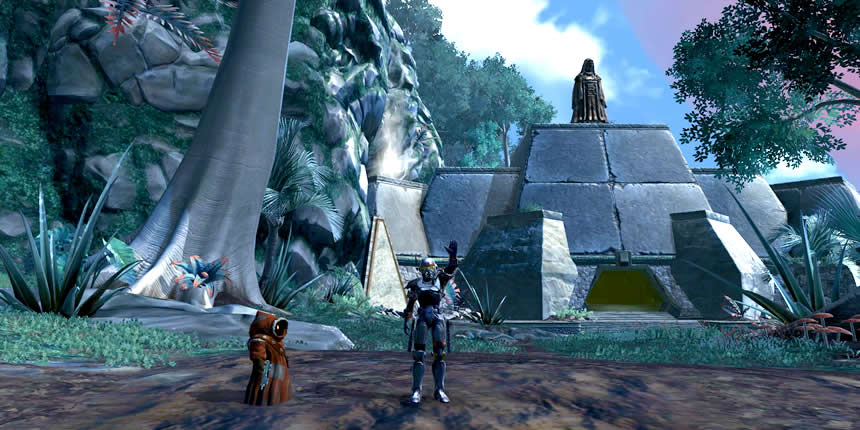 The Stronghold has both indoor and outdoor areas to decorate and explore. My favorite room in the temple is built around a cascading waterfall.
It comes with a Lazarus Pit. Or is it a hot tub? #swtor #swtorfamily pic.twitter.com/KsCKxiroSE

— Darkbrew (@TheBrewHall) July 22, 2015
There is a basement room with a decorative head statue and an outdoor balcony. There is a mezzanine that overlooks the main room and exits to a bridge that connects the temple to the main grounds.
The bridge is another beautiful area. It runs parallel to a giant waterfall on one side, and an incredible view on the other. You can even see the mist from the waterfall permeating the air around you. It's that detailed.
As you cross the bridge and enter the temple grounds, you'll find two sanctuary buildings both with accessible rooftops. The rooftop of the main temple is also accessible.
The temple grounds are highlighted by stunning vistas, misting waterfalls, and double rainbows all enhanced by beautiful ambient sounds.
There are more than enough hooks for decorating including plenty scattered about the grounds in and around the streams, waterfalls, and grottos. I don't have nearly enough Revan statues to fill the hooks that will support them.
It wouldn't be Yavin IV if there weren't secrets to be found such as a giant cave and a climbable watch tower that is straight out of A New Hope. There is another hidden gem that I wish I had discovered on my own, but I wasn't clever enough. Perhaps you are?
I will be the first to admit that I wasn't much into strongholds and decorating, but Yavin IV has me sold on the concept. I will now be making a habit of visiting SWTOR strongholds looking for decorations and decorating ideas.
The Yavin IV stronghold is not a home away from home. It's just home.