Happy Friday, and a few short topics for you today.
The Brew Hall Empire
The Brew Hall empire has expanded. You can now find me in more places than ever on the internet. In addition to my Twitter account, I've now set up the Brew Hall on Facebook, Tumblr and Google +. I'm also considering doing some streaming on either Twitch TV or Hitbox. If you guys have used either of those services and have a recommendation, let me know.
Here's how this works, whenever I publish something here, it will automatically get posted to the other sites. The brewhall.com will always be the source of information, although I do actively tweet. I'm not likely to post original content on the other sites. That doesn't mean I won't join in the conversations there. No matter where you happen to be you can always find me.
Level 90 Boost
I pre-ordered Warlords of Draenor and received my free level 90 boost. I haven't used it yet. I don't have any free character slots on Drenden and I don't have a character I want to delete. Drenden and Arathor are supposed to be connected soon, so I'll probably wait until that happens and then create a character on that realm. I also don't know which class I want to boost. Top contenders are,
Priest
Monk
Death Knight
Warlock
Hunter
I have a 34 Mage with full heirloom gear so I don't want to waste the boost on him. I have high level versions of Shaman, Druid and Paladin, and I'm not interested in Rogue or Warrior. I'm half tempted to use the boost on a character that is over level 60 so I can get the profession boosts to 600. Anyone know if I have a level 60+ character and pick-up two fresh professions and then use the boost if it will level up those professions?
If that's that case then getting two max level professions I don't have might be a good choice.
Hearthstone
I pretty much ignored Hearthstone until it went to open beta, and then I got hooked. If you played at all during the beta, then you got to keep your stuff. This made getting the Hearthsteed a little easier as I had the makings for a decent Hunter deck. It's an awesome mount, and I'm now torn between using it and the Kork'ron War Wolf for my ground travel, and I'm torn between using this, the Iron Sky Reaver, the Sky Golem and Spawn of Galakras for my air travel. Good problem to have, but a problem nonetheless.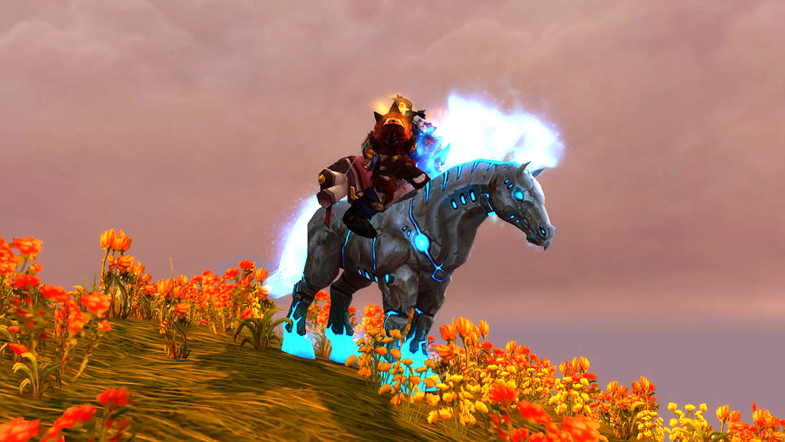 Back to Hearthstone, if you haven't tried it you should. It's fun. I was afraid to go up against other players, but it's not bad at all. You'll win some and you'll lose some. The game hinges on good strategy and luck of the draw. If you play a Hunter and can get a Starving Buzzard, a Scavenging Hyena, and Unleash the Hounds on the board at the right time, you can really cause some havoc.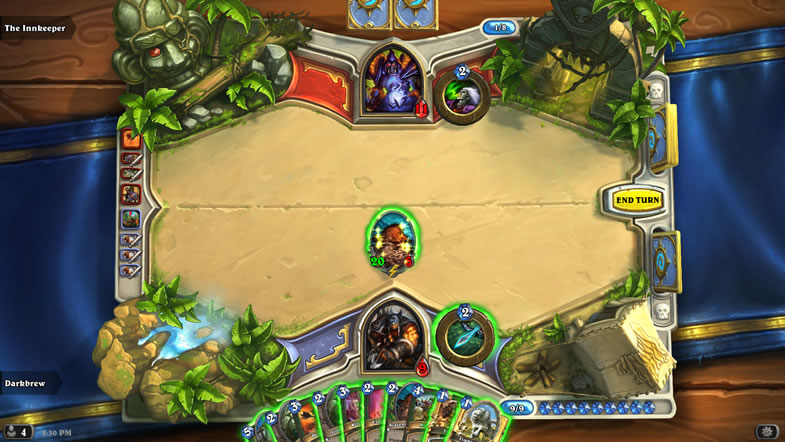 Beta
There's still no sign of beta. Like many of you I thought we'd be a few  weeks into the process already. Warlords of Draenor seems to be on a similar development track as Mists of Pandaria and given that the final patch was released in September it would stand to reason that beta would've started in January or February. Mists of Pandaria beta began in late March 2012.
For Mists I was guaranteed a spot, but Warlords is uncertain. I'm hopefull that I'll get in right away, but I have no expectations that will happen. My fingers, toes and everything else are crossed though.
I remain hopeful that we'll see the beta start before the end of March.
Release
While the release of beta remains uncertain, there is a window for the production release of Warlords of Draenor. When the pre-order went live a fall release was mentioned, as well as date of 12/20/2014. I interpret this to mean we'll see the expansion no later than 12/20, but realistically Blizzard is likely shooting for September.
If it is released in September then that means we should see pre-expansion changes sometime in August. For the moment though, it looks like any new major content for WoW is off in the distant horizon.