It was one year ago that BioWare invited over 200 guild leaders, fan sites and media down to Austin, TX for the first ever The Old Republic Guild Summit. It was truly a singular event, and something that I shall always look back upon with fondness.
A lot has changed in that one year, and I don't see much point in recapping promises made, kept and broken, but looking back I realized that I never took the time to write about the event and what it was like to attend and cover it.
I had the opportunity to go to the Summit because I was writing for Force Junkies and they were invited to send someone down to cover the event; I eagerly volunteered. After the event the editors were very kind in their thanks and praise for the job I did and for that I'm grateful. The truth is, I was in way over my head and couldn't have done a worse job covering such an awesome event. In fact I probably could have done a better job covering day one if I had just been home watching the internet stream and taking notes. As they say, live and learn.
I arrived at the hotel around noon on Sunday before the event. After checking in, I headed straight to the registration table where I was warmly greeted by Stephen Reid and David Bass. It was the first of many surreal moments. I definitely wasn't in Kansas anymore.
Upon registering, I proudly hung the event badge around my neck, grabbed a beer and took a seat on an unoccupied sofa. Then I waited. I waited for any random passer-by who was also attending the event and when it happened, I glanced up and said, "Hello, are you here for the Summit?" And thus it started, a simple one-on-one conversation with another fan of the Old Republic. A conversation that would soon get the attention of another passer by who asked to join in. On and on it went until there were a good dozen of us sitting around, drinking beer and talking about nothing but SWTOR. It was one of my favorite moments of the Summit.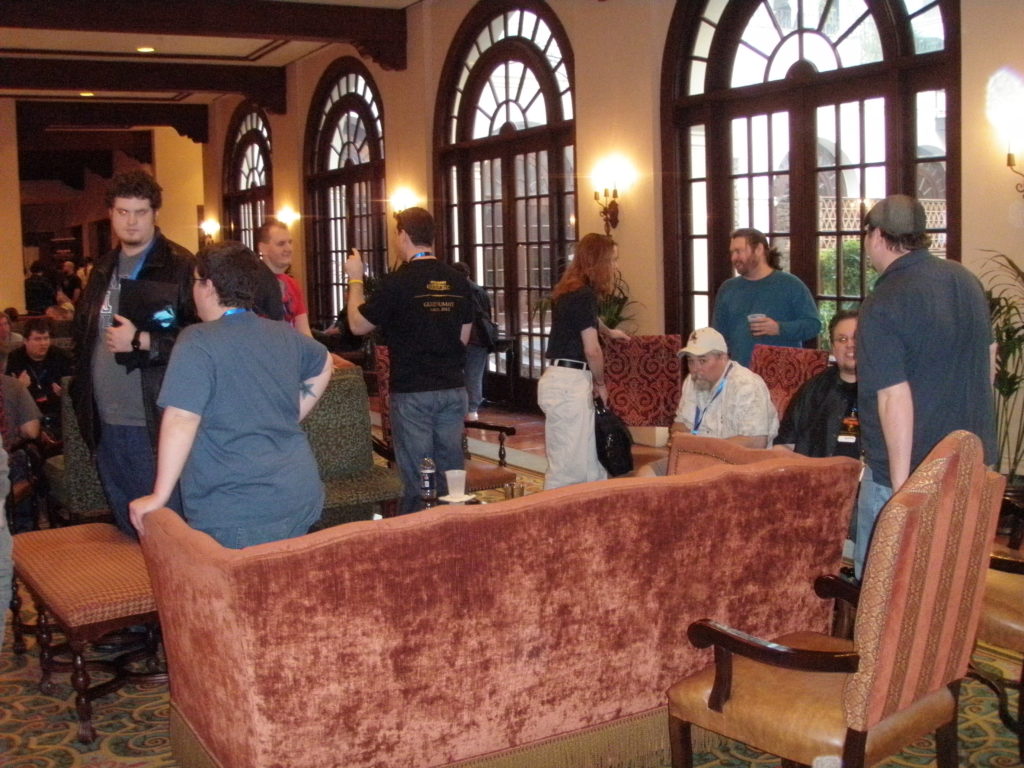 The event was scheduled to begin on Monday, March 5th, but BioWare had planned an awesome event for Sunday evening.  They bused everyone to the Alamo Draft House for a 3-D screening of the Phantom Menace. While arguably the worst of the Star Wars films, watching it with a theater full of Star Wars fans somehow made it, well, every bit as bad as it was originally. Even pizza and couple of pints from a local micro-brewery couldn't  save this one.
The highlight of the evening came before the film started when R2-D2, Darth Revan, and a brigade of Imperial Stormtroopers escorted a beautiful young lady to the front of theater where, TORWars Brian Waggoner proposed. Awesome, awesome stuff. I didn't fly home until Wednesday so I had the pleasure of dining with Brian and his fiancée on Tuesday evening. Truly great folks.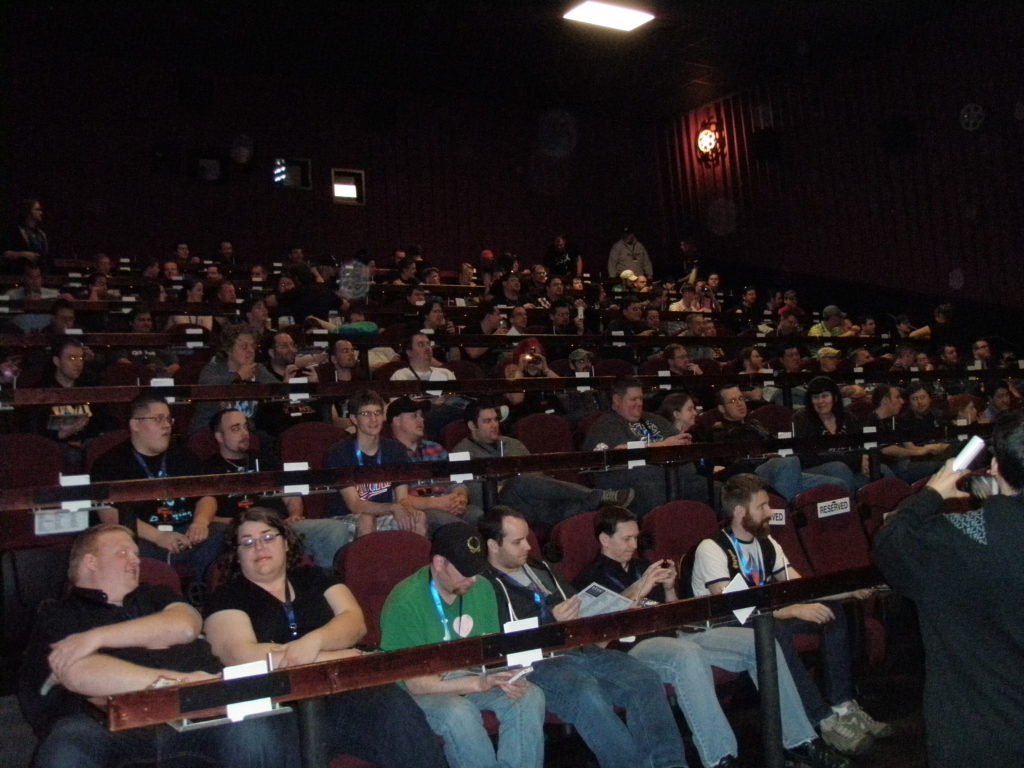 Monday morning marked the official start of the Summit. I got up early, grabbed breakfast and got in line to enter the conference hall. I was about an hour early, and I was not the first one there by any means. Now most of the attendees were not such early birds, it was mainly those of us from the various fan sites.
Again another surreal moment as I got meet Alan from Alan Shot First/Mos Eisley Radio, Jeff and Deirdre from TORWars, Kash from MOG Nation, Carla from Corellian Run Radio, Justin from Darth Hater, and the good folks from the former Ask a Jedi site. It was a tiny club comprised of folks who loved the game and felt compelled to do more than just play it.
Indeed I think we all felt a bit special. At least until the doors opened and we had to wait as the "official" media crew, invited to cover the event, were let in first. Granted they had to sit in the back the room while we got to arm wrestle one another for seats in the front.
Day one was all about the state of the game and update 1.2. All of the panels were streamed live over the internet and you can still watch them today (see videos below). One of my favorite moments came at the conclusion of one of the panels right before the internet feed was turned off. Holding the microphone, Stephen Reid said, "Okay, now we can talk about secret stuff", and zap off went the feed. I can tell you first hand that there was no secret stuff, although some folks out there actually thought there was.
The morning sessions wrapped up around 11:00 am and we were then bused to BioWare studios for a tour. That's right, we actually got see where the magic is made, and dreams come true. It was a real treat, and were it not for the security guard who followed us everywhere I'd have walked out of there with a life-sized statue of Darth Malgus stuffed in my pants.
After the tour we returned to the hotel for the afternoon session. All I remember is that it ran long and it didn't leave much time to write and publish an article before the evening events. It didn't help that many of the developers hung out in the lobby where we were able chat with them about the game. I did manage to get an article out before dinner, and I was able to do it without burning up my keyboard. It was close though.
The evening event was dinner with BioWare and trivia. The dining hall was filled with lots of small tables and seating was a free-for-all. Seated at each table were various employees from BioWare. They ranged from co-founder Greg Zeschuk, to members of the design team, to members of the community team. We were treated to some real Texas BBQ, and some real, honest conversation about SWTOR.
I had the pleasure of sitting at a table with Joveth Gonazalez, who recently left BioWare. He was an exceptional person and completely unflappable, and unwilling to give up the goods, as we grilled him to find out what really happened with the white lightsaber crystal exploit. It's no wonder he made a good community manager.
While a member of the community team may not sound as glamorous as eating with Damion Schubert or James Ohlen, our table did manage to come in third in the Star Wars trivia contest. We would've come in first had my team listened to me when I said the "Sh!tty" planet shown in the Clone Wars video snippet was Illum. Hoth? Really? Hoth!?
The final day of the Summit was a bit of a let down. Nothing was streamed and instead of meeting with the developers we had a session with the marketing team, and some additional Q&A with Stephen Reid and David Bass. After that session we were invited to play test game update 1.2.
It was definitely an event that I'll never forget. As cool as it was to meet the developers and tour the studio, I'll mostly remember the great people that I met and the passion we all shared for The Old Republic.
I know a lot of the developers have left, many of the players have quit, and the game has seen many ups and downs since the Summit, but I guarantee you that there are at least 200 players out there who'll be there until the end.
May the Force Be With You!
Below are a few photos I snagged from the event. Unfortunately my camera and photography skills were not up to the lighting  challenges presented by conference room and other areas.