Star Wars Celebration 2015 is now over, and I've returned home and am bracing myself for the return to normal life. It was a thrilling, emotional, and at times exhausting ride as I immersed myself in nothing but Star Wars for four straight days.
I'll give you my high points in a moment, but as I tweeted the day before the event, my main goal wasn't to watch trailers, get autographs or buy collectibles and t-shirts.
Number one thing I'm looking to do @SW_Celebration? Meet other fans and make new friends. #swca #SWCelebration

— Darkbrew (@TheBrewHall) April 15, 2015
So how did it go? Mission accomplished!
I spent much the week hanging with the crew from the Cantina Cast. I believe all of us were meeting for the first time, but I was clearly the new kid on the block, and they could not have been more gracious and welcoming if they tried. Within minutes of shaking hands, there was a microphone in front of me and I was joining them on their podcast.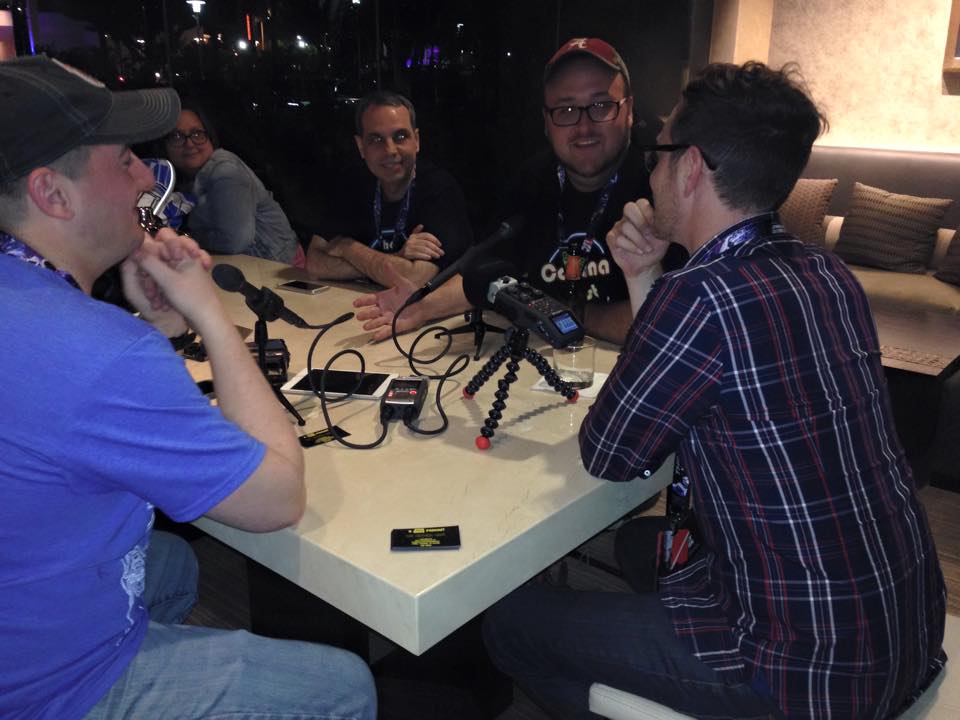 In case you're wondering or don't ready captions, I'm the one sitting between Joao (the one with the red hat) and his wife Ashley who records the show's intro. We recorded three episodes together. The first, Episode 78: The First Night in Anaheim is available for your listening pleasure.
Not only did they let me podcast, but they introduced to a number of Star Wars bloggers and podcasters including the cast from Coffee With Kenobi, the aforementioned Making Star Wars, and Amy Ratcliffe who blogs for StarWars.com. I also got to meet and spend time with two additional members of the Cantina Cast, Ryder Waldron and Becca Benjamin.
If nothing else it's gotten me excited to start blogging for them. I'm targeting the beginning of each month for my posts, and last time I checked, it was almost May. Stay tuned.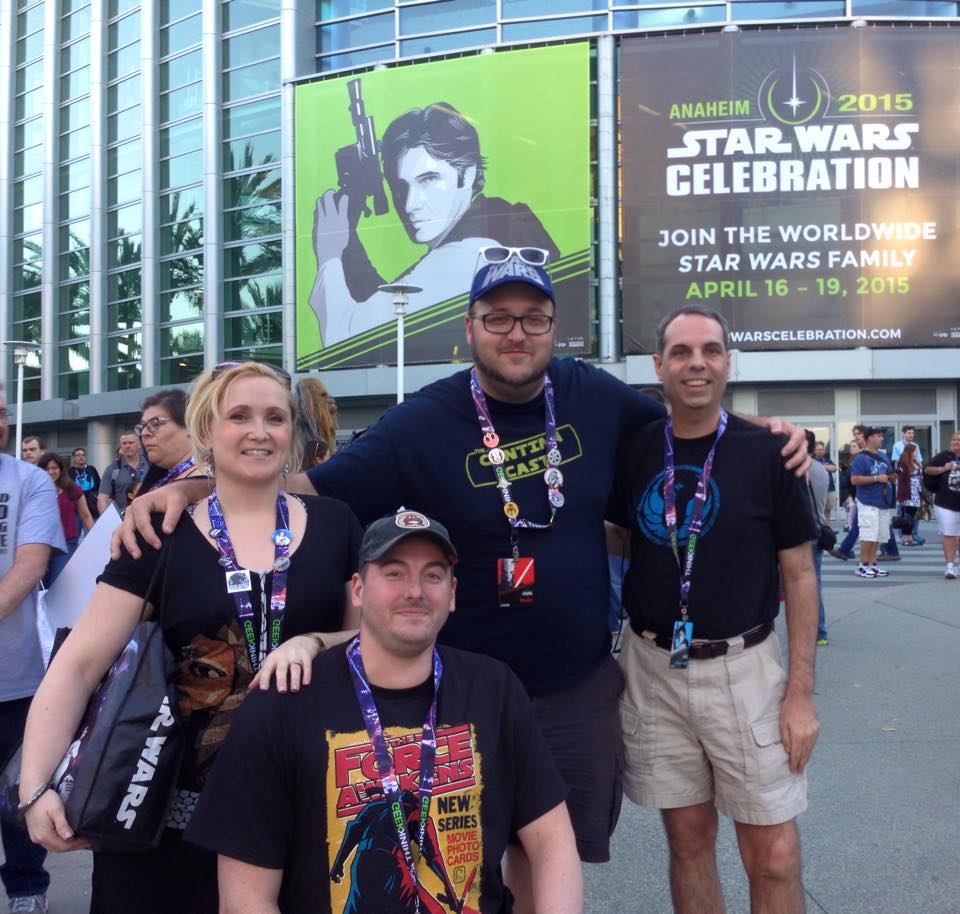 All gushing aside now, there's still this little matter of Star Wars Celebration 2015. I promised you some highlights, so here we go. It was impossible to experience everything so you definitely had to pick and choose. My top highlights in no particular order are,
Watching Ian McDiarmid read lines for the Emperor from the Return of the Jedi Shakespeare book in his full Emperor voice.
The new teaser trailer.
Learning that BB-8 was a practical effect for The Force Awakens and not CGI.
Hearing James Earl Jones doing the voice of Darth Vader in the Rebels trailer.
The Force Awakens exhibit featuring costumes and a few props from the film.
Seeing the teaser trailer for Rogue One and learning more about that film.
Seeing all the incredible cosplay each and every day.
Okay, let's cue the Throne Room and End Title music from a New Hope so we can close this one out. Star Wars Celebration 2015 will be an event long remembered. Four days of geeking out on nothing but Star Wars was truly a delight. There are all levels of geekdom, but when you attend a Star Wars convention on a Thursday you know you've crossed a mighty threshold, and that's alright by me.
I mentioned the incredible cosplay on display, so I leave you with an amazing Shae Vizla that I saw. The Old Republic was well represented to be sure.
Amazing Shae Vizla! #SWCA #SWTOR #SITH .@SWTOR pic.twitter.com/6pD65HWEdF

— Darkbrew (@TheBrewHall) April 18, 2015