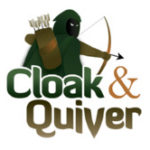 The first episode of the Cloak and Quiver was posted to iTunes this week. I encourage you all to listen to this great new podcast focused on Hunters. It's a one man show hosted by @Solarflair, and he pulls it off well.
In this first episode he talks about Hydras, WoD talents, Marksmanship, and he does something I wish we had thought of for the Hunting Party Podcast – reads listener e-mail!
You can subscribe to the show via iTunes, and you can follow the show's twitter account – @CloakAndQuiver for updates, as well as to submit questions and comments. The show is also available on Youtube.