If you happened to be up late last night, then you were treated to Blizzard's first shot across the bow of information related to Warlords of Draenor, as they released the Dev Watercooler: Pruning the Garden. If you're expectation was beta and or patch notes, prepare to be disappointed. This was a high-level look into their design philosophy for classes and races in WoD. But wait, there's more. Celestalon and Holinka flocked to Twitter to answer questions. You may not like all their answers, but you gotta love the responsiveness here.
The watercooler addressed stat Squish, racial traits, ability pruning, and crowd control and diminishing returns. As you can guess, I'll be focusing on Hunters as I go through the information.
Stat Squish
On stat squish all you need to know is that your numbers will be small, but your damage will still be big.
.@jakobsohn I'd be surprised if really skilled players didn't solo him at 100. Heck, I wouldn't be surprised if a couple are close already.

— Celestalon (@Celestalon) February 28, 2014
Let me translate this tweet for you.
You – "Hey Doc, will I be able to play the piano after this surgery?"
Doc – "Why of course, but only if you could play it before."
You – "Hey, you ruined my joke!"
Racial Traits
"We want races to have fun and interesting perks, but if some of those traits are too powerful, players may feel compelled to play a specific race even if it's not really the one they want to play."
Racials are changing to be brought more inline with one another and to compensate the loss of stats like hit and expertise. Since this impacts everybody, I'm posting the announced changes.
Draenei: Heroic Presence is now +X to your primary stat. Gift of the Naaru heals for the same amount but over 5 sec.
Dwarf: Might of the Mountain adds 2% crit damage/healing. Stoneform removes magic and curses, but cannot be used while CC'd.

Gnome: Escape Artist has a 1 min. CD. Nimble Fingers gives 1% Haste. Expansive Mind is now +5% Max Mana, Energy, Rage, or Runic Power.

Humans:  Human Spirit is now +X to two secondary stats of your choice. Every Man for Himself is still under evaluation.
Night Elves: Quickness is a passive 2% speed boost. Touch of Elune grants 1% Haste at night and 1% Crit during the day. Shadowmeld remains unchanged.
Worgen: Darkflight is staying unchanged.
Blood Elf: Arcane Acuity is a 1% crit passive. Arcane Torrent restores 20 Runic Power, or 1HoPo, or 3% Mana and Chi.
Goblins: Time is Money is now 1% Haste.
Orcs: Hardiness is 10% Stun reduction. Blood Fury is unchanged.
Tauren: Endurance becomes +X Stamina. Brawn is a 2% passive increase to Crit Damage/Healing.
Troll: Berserking is reduced to 15% Haste.
Undead: Scaling tweaks to the rate of Touch of the Grave, and Will of the Forsaken now has a 3 min. CD.
Ability Pruning/CC Changes
"For Warlords of Draenor, we decided that we needed to pare down the number of abilities available to each class and spec in order to remove some of that unnecessary complexity. That means restricting some abilities to certain specs that really need them instead of being class-wide, and outright removing some other abilities. It also includes removing some Spellbook clutter, such as passives that can be merged with other passives or base abilities."
Not a lot of information was revealed on specific changes for Hunters, but here's what we know.
Counter Shot is staying, but Silencing Shot is being removed. Scatter Shot is also gone. Wyvern Sting stays. Traps are staying and now arm and activate instantly. They still need to be placed/launched and have travel time.
There are changes happening to pet CC's. Nothing specific, but don't be surprised if Hunter Pet CC's get removed.
That's what came out of the twitter Q&A, now onto the BIG news.
Bendak You Sly Dog…Err…Wolfman Thingie
The Hunter steal of the night goes to Eyes of the Beast author, Bendak who happened upon the chat channel for the Legendary Show. There he found Celestalon and Lore giving away secrets on our beloved Hunter Class. The image comes courtesy of this post from Eyes of the Beast. A quick side note. Whenever I say something comes courtesy of somewhere else, it means I stole it without permission, am giving the author full credit, and hope they don't get mad.
Besides, it's not like I pilfered one of his freakin' amazing screen shots. Dude, if you're reading this, you must do a post on how you take such great shots. Okay, back to last night.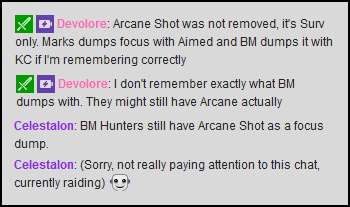 So there you have it, Arcane Shot will be BM/SV only, and Aimed Shot will be the focus dump for MM. Bendak wondered if Glyph of Aimed Shot would become a baseline to the spell. That would make sense.
I want to know if that means the new level 100 talent Bola Shot, which replaces Arcane Shot, will be BM/SV only now? I've sent a tweet to Celestalon, hopefully it will get a reply.
@Celestalon If Arcane Shot is being removed from MM, does that mean Bola Shot will be BM/SV only?

— Darkbrew (@TheBrewHall) February 28, 2014
I like the idea of keeping abilities, but restricting them to specific specializations. As to which ones, well that's anyone's guess. A shot like Glaive Toss works fine with all specs, so I can't think of a reason to restrict it to one or two, but that doesn't mean it can't happen.
As far as other abilities that could be removed, the focus will likely be on the DPS cooldowns. Things like Rapid Fire, Frenzy/Focus Fire, and yes, even Stampede.
According to Bendak, Aspects may already be gone, and like him, I think that Distracting Shot could be on the chopping block as well. I'd also toss in a Murder of Crows as one that might be altered or removed. I love the animation, but it's expensive and kluge.
One thing I would caution here, is that you need to evaluate these changes in the context of WoD, and not Mists of Pandaria, and WoD is a very incomplete puzzle at the moment.
I for one need to gather a lot more information and get some hands on before I pass judgement, but these changes seem anything but small. Et tu?