Icy-Veins interviewed Tom Chilton and Ion Hazzikostas about Legion. In that interview, it was revealed that all three Hunter specs will have their own unique flavor in the upcoming expansion.
Beast Mastery – Ranged and uses pets.
Marksmanship – Ranged and does not use a pet.
Survival – Melee and uses a pet.
I was alerted to this tidbit from Fel Panda Steve on Twitter.
Demo becomes a demon summoner, Marksmanship loses their pets! pic.twitter.com/Mqs0PPbCU0

— Fel Panda Steve (@ikralla) August 7, 2015
In my post yesterday I suggested that this is how Blizzard might choose to go in Legion. It seems like the natural progression from Warlords of Draenor.
Lone Wolf was only ever used by Marksmanship and Survival and no one plays Survival right now. Adaptation was only ever used by Beast Mastery and it was always taken by Beast Mastery. If Lone Wolf is going baseline for Marksmanship, then hopefully Adaptation is going baseline for Beast Mastery.
So Marksmanship moves closer to becoming a true ranger specialization with a bow as its artifact weapon. Not just any bow either, but Thas'dorah, Legacy of the Windrunners.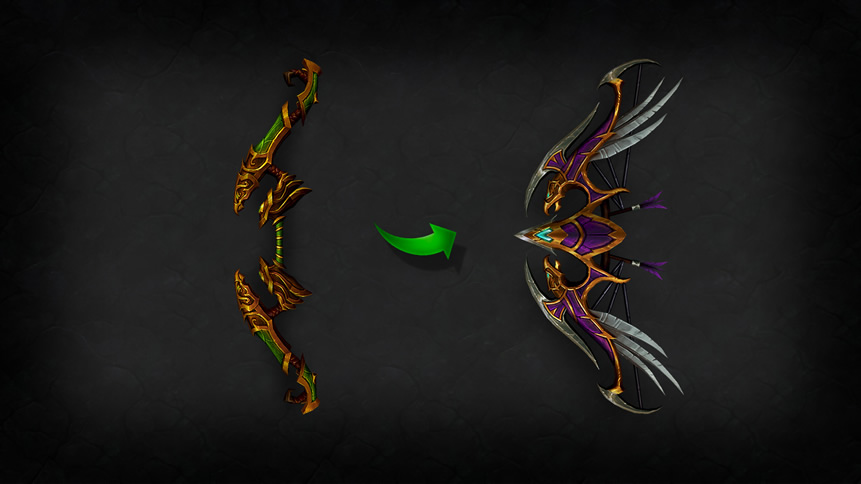 Beast Mastery retains the classic look of a Hunter, think original World of Warcraft cinematic, using a gun and a faithful companion.
Survival, which perhaps should be renamed, will be more of a Rexxar/Beastlord Darmac prototype, using a melee weapon and a faithful companion.
On paper I think this sounds wonderful but the more the specs diverge the more players will fall in love with one over the other. If your favorite spec is underperforming then feeling obligated to play a spec you don't like could lead to unsatisfaction with the class. It's a little like this already, but Legion is nudging things in a way that firms up the delineation between the specializations.
I prefer Beast Mastery but when I raid I play Marksmanship with Lone Wolf. It's not the end of the world, and I enjoy the variety and the challenge of trying to master my whole class.
It's a brave new world for Hunters.