There's a lot of discussion going on regarding the length of Mists of Pandaria and the amount of time it takes Blizzard to deliver new content. MMO-Champion posted a couple of charts comparing the patch duration for each expansion in World of Warcraft. Alt:ernative Chat discusses the topic in this post.
Believe it or not, thus far, Mists of Pandaria is the shortest running expansion that Blizzard has put together, and patch 5.4 currently has the shortest duration of any expansion's final patch. The meter is still ticking, and when patch 6.0 does arrive, MoP may end up being one of the longest running expansions, and patch 5.4 the longest final patch.
Before I dive into this, let's make sure we're all on the same page here regarding numbers.
I'm only looking that the four expansions and not Vanilla.
Duration is based on the initial release date of each patch. I'm looking at patches and sub-patches as a whole.
Release dates are coming from Wowpedia. They may not be 100% accurate, but they're dates so it's pretty darn close.
For x.0 patches I'm using the release date of the pre-patch, and not the release of the expansion.
I did not factor in Beta releases as I do not consider that new content.
I drafted this on March 22, 2014, so predictive dates in this post are based on that starting date.
Let's look at some numbers. Here are the release dates for each expansion's patch and the total duration of each expansion in days.

Now, here's a look at the number of days each content patch lasted for each expansion. Patch 3.3 is the longest running patch at a whopping 308 days. Patch 5.4 is the shortest running final patch, but again, the meter is still running, and I'm willing to bet it will surpass 3.3.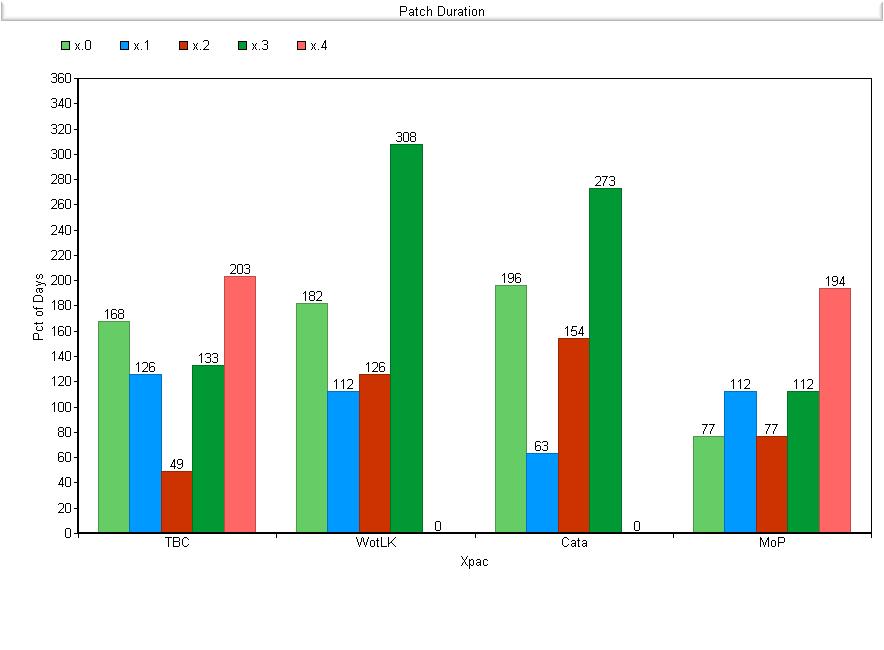 What should jump out at you is just how short lived patches 5.1, 5.2 and 5.3 were compared to the others. If Blizzard is wondering why were clamoring for content, it's because they conditioned us to shorter, faster patches, and to their credit they were able to deliver that until now.
Here's another look that shows the percentage of each expansion that each patch consumed.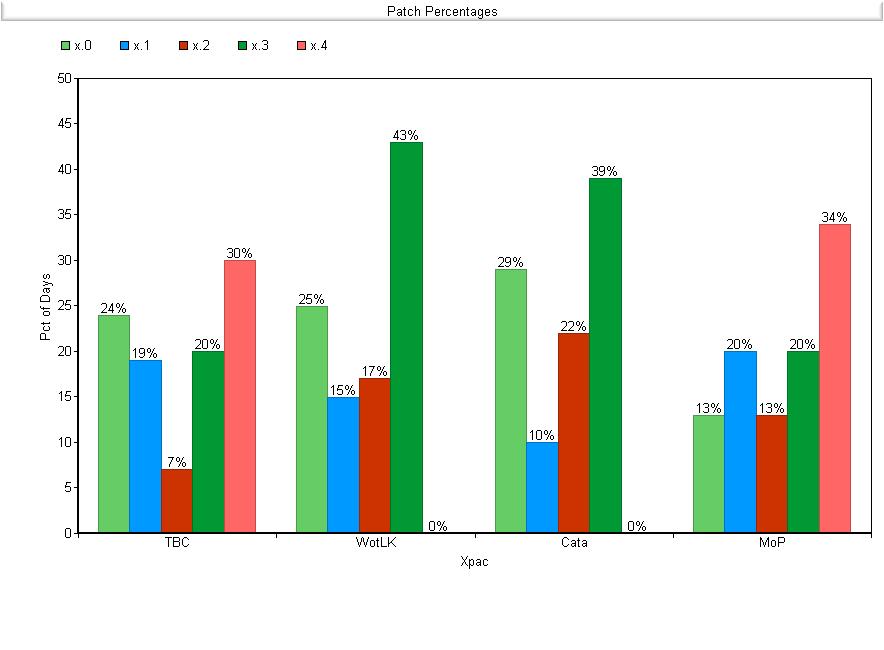 One takeaway here is that Blizzard released patch 5.1 much sooner than it needed to be. Patch 5.0's percentage duration is much shorter than any of it's predecessors. They could've stretched this one out longer. The same could be said for patch 5.2.
The fact that each final patch consumed a greater percentage of content time than other patches should come as no surprise. As of right now patch 5.4 doesn't seem too out of line, but the expansion is not over and this is just a snapshot of where we are today. Where might we end up?
Let's assume that 6.0 is released on 8/26/2014. That's a Tuesday and it's very close to when 5.0 went live. If we fast forward to that day. This is how the number shake out.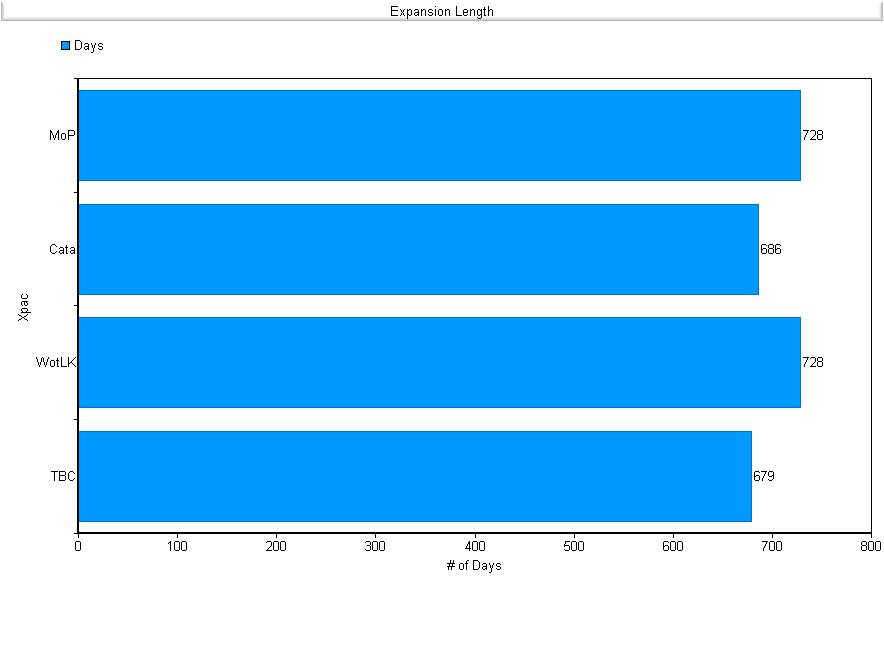 Mists of Pandaria's total duration equals that of Wrath of the Lich King at 728 days. It's now tied for the longest running expansion in WoW.
Here's how the percentage durations look.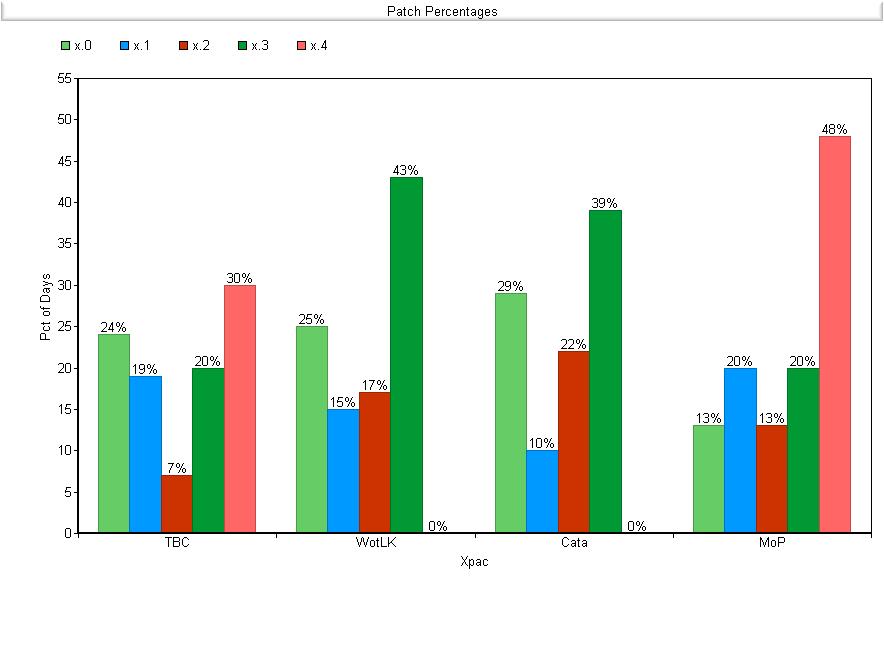 Patch 5.4 ends up consuming 48% of Mists' content time and becomes the longest running content patch at 350 days, exceeding 3.3 by 42 days.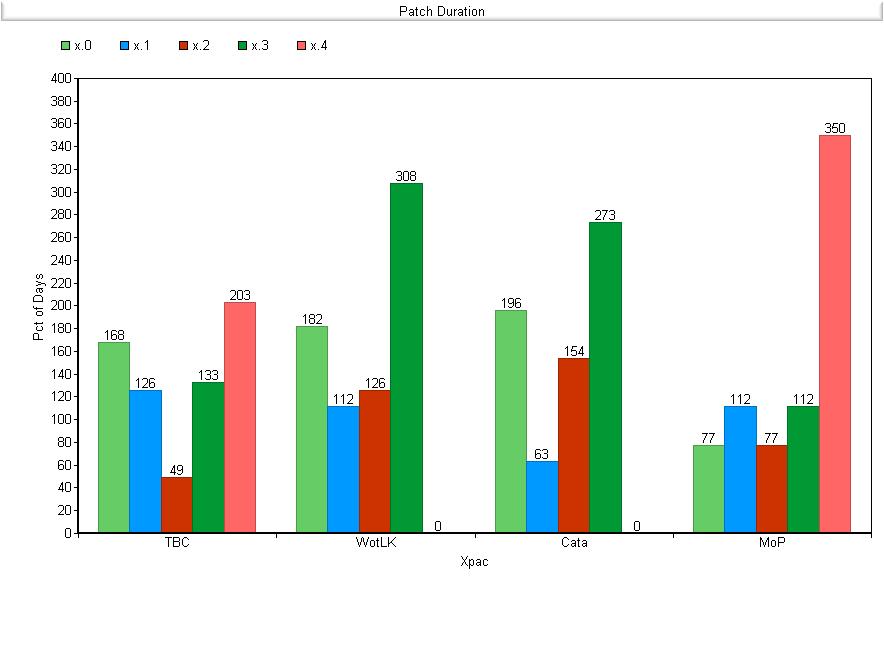 For Mists of Pandaria Blizzard wanted to give us new content sooner. Throughout the expansion they were able to deliver on that promise. Where they've fallen short is in the transition from Mists to Warlords.
Then end result is that we've consumed most of the content in 5.4, and might be faced with the longest wait between the end of one expansion and the start of another.
So as of right now MoP is the shortest expansion on record, however I think it will end up being the longest.
What say you on this?