Like all expansions Hunters will experience a myriad of changes when patch 5.04 goes live on August 28, 2012. One of the most significant of these is the addition of Expertise as a secondary stat.
In Mists of Pandaria mobs, bosses and players will be able to go all "Neo" on Hunters and dodge their bullets (for those of that insist on using bows and crossbows, perhaps Loki snatching an arrow out of the air like he did in the Avengers, is a more appropriate image). Regardless, Hunters will have multiple ways to miss in MoP.
Come patch 5.04, Hunters will find themselves in the unfortunate position of needing to be Expertise capped whilst having no expertise available on any of their gear (the ring with Expertise on it is a myth).
Adding insult to injury is the fact that getting Expertise capped does nothing to increase Hunter DPS. It just ensures that Hunters never miss, and they do that just fine now. So, how much Hit and Expertise is required? For level 85 the ratings are as follows,
769 Hit rating. Draenei get a 1% chance increase to Hit, so their rating is 666.
769 Expertise rating. Dwarves and Trolls get a 1% increase to Expertise, so their rating is 666.
The ideal place to get Expertise is by reforging. Depending on racials and gear level, this will have a lesser or greater impact on each player. Those with more heroic gear may have an easier time reforging as they have more secondary stats to play with than those in normal or raid finder gear. Items such as trinkets, melee and ranged weapons will also have an effect.
Hunters will no long use melee weapons, so those using a melee weapon that has secondary stats will lose a big chunk of reforging itemization. On the other hand, the valor trinket can be reforged and provides 183 crit or haste that can be converted to Hit or Expertise.
Looking at my current gear, I'm noticing the following,
I have 13 pieces of gear that can be reforged.
Five items will remain as they are now.
Two items that aren't currently reforged will now have to be reforged, giving up Haste for some Hit and Expertise.
Three items that are currently reforged into Hit will be reforged into Expertise; essentially a wash.
One item that exchanges Haste for Hit will now exchange Crit for Expertise.
One item that reforged Hit to Crit will now reforge Haste to Crit.
One item that gave up Haste for Crit will now give up Haste for Expertise.
This snapshot from
WoW Reforge
 highlights the changes that I'll have to make to be both Hit and Expertise capped. I'm mostly losing Haste and a little bit of Crit, so my hunch is that this won't be that big a loss and it certainly won't have as big an impact as the changes to talents, spells and abilities. Others may not be as fortunate, but bear in mind that this little bit of pain is only for level 85. Once Hunters hit level 90, Expertise will be a regular stat available on their gear.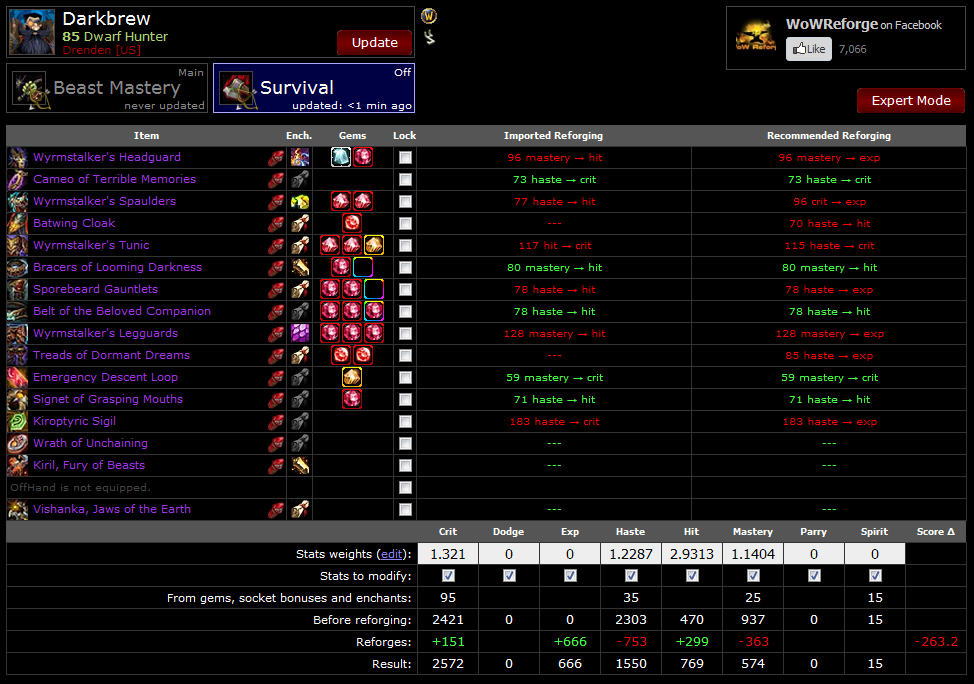 ---